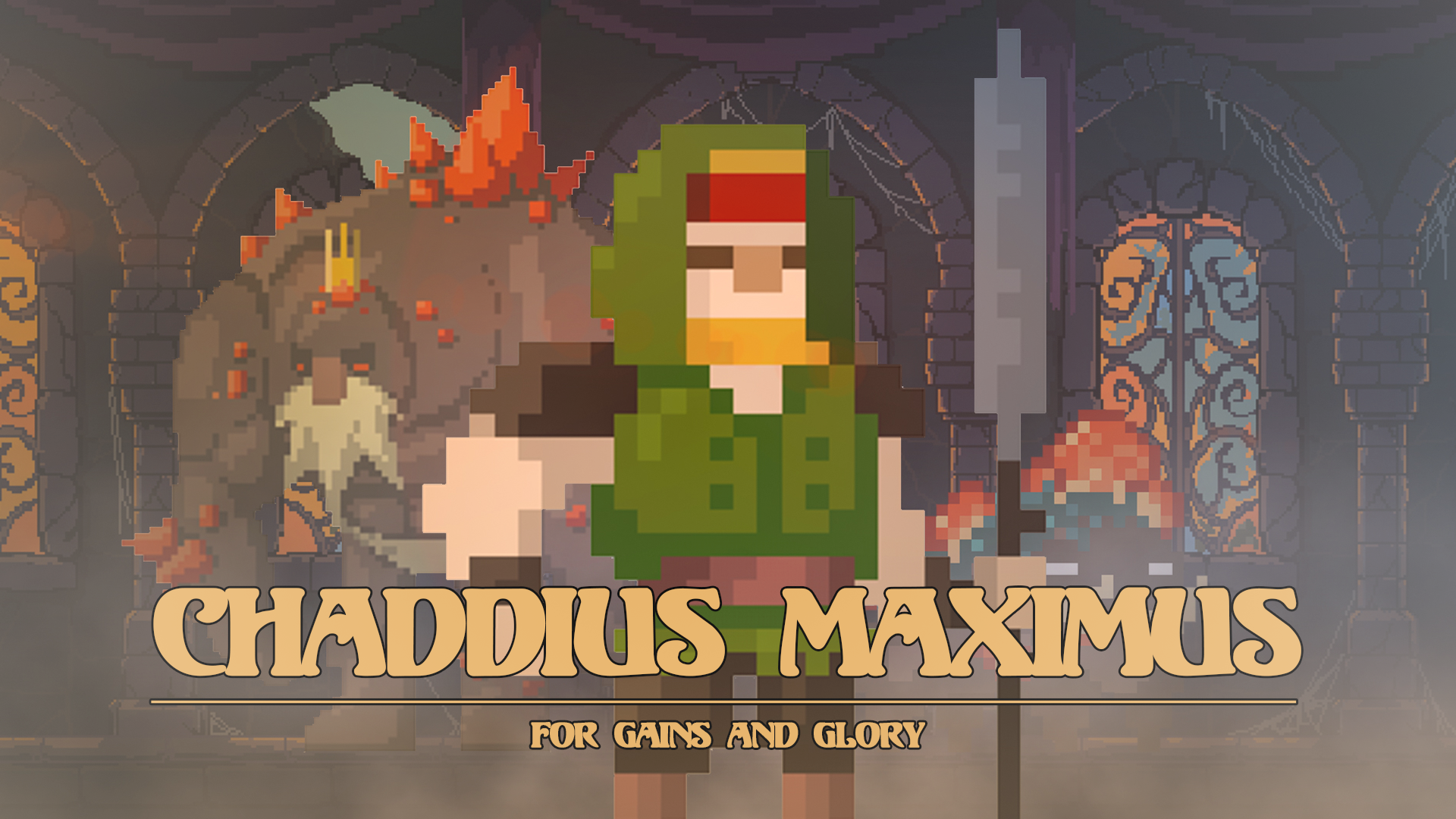 Chaddius Maximus
Greetings Chads and Chadies!
It has been one week since we launched, and we have worked hard ever since, fine-tuning the Chaddius Maximus experience. Today, we are finally ready to push another large update with many quality-of-life improvements, and a bunch of bugs and pests squashed.
Boss animations:
For those who made it to the boss, you must have noticed that the pest that Chad fights has affected him the most and turned him into the outlines of the king he once was. Thanks to your efforts and our dedicated artists, we have restored him into a more formidable foe for Chaddius. He is now fully animated with appropriate sprites. We appreciate your tolerance to his previous state, and we hope the experience is now more enjoyable for everyone.
Backgrounds:
Thanks to the release, we managed to take a step back and look at where we really felt we could improve. One of the first things we noticed were issues with the forest background. We tackled this issue and you can now explore those areas with a brand new and mesmerizing backdrop.
VFX:
Or how Chad likes to call it; Maximus Effectius. We added better spear and Chaddius effects, because the experience of feeling like Chad is the most important to us and we want to achieve the most accurate representation of his true power.
Collisions:
The entire player community addressed the collisions and how they felt off. We looked at this issue and tried our best to improve the experience on that front. We would appreciate your feedback on the changes, and how they feel now, so we can continue to improve the game.
Fixes:
There were some other issues we noticed the last time you heard from us, and we are happy to say we tackled a lot of the challenges and came out mostly victorious. Amongst the massive list of bugfixes, here are some of the most important issues:
We managed to fix texture bleeding between the tiles. So, no more random lines in between the frames when the parallax scrolling happens.
Controllers can now be plugged in and out without crashing the game. Especially handy for those with a janky cable. We would like to mention that our engine only supports Xbox Controllers, and apologize to those who prefer the PlayStation or Steam controllers.
We temporarily removed the Options in the menu, it isn't where we would like it to be, and Fullscreen was causing some issues for players. Our goal is to implement it upcoming Tuesday again.
Changed the Chicken Leg to a beer, for a healthier diet for Chaddius.
Fixed some level transitions setting you back further than intended. Nobody likes a relapse in progress, and Chaddius least of all. There is a goal, and we want you to achieve it.
Unbootable Game:
We have had some reports about the game not being able to run, unfortunately there is little on our end we can do about that.
If you experience those crashes, there are a few things you can try; First, check if a crash report is rendered in the files, you can comment our contact us with those, and we can have a closer look as to what went wrong.
Otherwise, there is a case where the computer you try to run it from is missing a C++ redistributables, you can install these yourself and see if this fixes the problem, we cannot provide this for you, but we hope it helps you run the game.
Finally, we will not create a 32-bit system executable, due to our custom engine not supporting it. We would have loved to provide this for you, but I regret to say it is a time constraint we unfortunately cannot fit in with our educational environment.
-Boyd Catsman, Producer of Chaddius Maximus